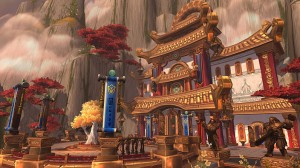 We are all on the edge of our seat waiting for a release date form Mists of Pandaria, we already have the Guild Wars 2 release date firmly in brains but Mists of Pandaria has been a little slow lately. Until now, we have some tiny bit of news that progression is going well and we could soon hear of a release (maybe, who really knows).
Over on the official forums blizzard has put up a post letting us know about patch 5.0.3 coming available on the public test realm.
Hopefully this gives us a little insight into the fact that the release date should be announced soon. One thing to note is that it will most likely be towards or in the 4th quarter as that is what most of our information leads to. With Guild Wars 2 being released in August, Blizzard will definitely not want to compete with them, they will want to try and gain as high a number as possible of initial purchases and this means releasing at a time when people have money and when people are not buying something else.
If you want to check out the forum post then head on over to: http://eu.battle.net/wow/en/forum/topic/4878358165.
Enjoy and keep on gaming!