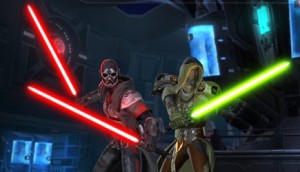 Some news has emerged that is great for people wanting to have a go at Star Wars The Old Republic. If you are an avid MMO gamer then it might be worth checking out aswell.
Star Wars The Old Republic has now been opened up to allow players to try it out up to level 15. If you like Star Wars or you are an MMO gamer, then I suggest checking it out. It is a good game but really lacks a full end game in my opinion. It could be better now but I am very unlikely to go back to it unless something drastic happens.
I enjoyed many hours in SWTOR so I am not saying it is a bad game, but if you play with a group of friends then you might be disappointed by the end game if you get there.
Try it out and see if you like it, the story is compelling and very interesting, especially the smuggler story. I would check out the smuggler story if you like something funny or if you want something more serious then the Jedi stories are great aswell.
Have a go and let us know how you got on, head on over to our forums or leave a comment below to give us some more info on SWTOR.
Free to play until level 15 is great, but could it mean that bioware are desperate for some more subscribers? We will have to wait and see.
Enjoy and keep on gaming!