If you love games, in particular Blizzard games then you have probably noticed some very interesting posts today. Here at teamoverpowered we have rated our top four gaming april fools jokes!
1) URF Mode – League of Legends
This has the spirit of April Fools wrapped up perfectly, it's silly, it's awesome and it's a joke. They even went so far as introducing it into their main game, along with some pros battling it out, it is a brilliant april fools, well done rito games. For the full article and mayhem, take a look at: http://www.leagueoflegends.com/en/news/game-updates/features/ultra-rapid-fire-future
2) Happy Reaper – Diablo3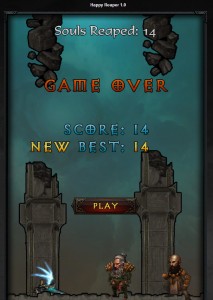 This april fool comes from Blizzard, which is a mimic of the popular game, flappy bird. The reason that this is in the second spot is that it's really on topic at the moment and it's actually a game you can play, great job blizzard.
If you have played happy reaper, post a screenshot below to share your best happy reaper score! We only managed to get fourteen before wanting to eat our own hands. To play the game click here.
3) Catch pokemon on google maps!
This is a great april fools, it brings pokemon into your google maps to find out where they are to catch them (you only need to actually click on them). It's a great combination and it's actually useable (even though the pokemon don't actually exist, we walked 4 miles for a pikachu to just find a small patch of grass with a dog shit on it). To checkout this april fools you will need to open google maps on android or ios and activate the new function! You only have until the 2nd of april though, so be quick.
4) In the fourth spot is Blizzard again with their female draenei
The reason we love this so much is in the subtle yet completely obvious art and the writing gels the whole joke in together really well. Check out the post by blizzard over on the draenei female art april fools page.
I hope you enjoyed this years april fools and we look forward to bringing next years to you too.