The world of gaming is a thrilling cosmos teeming with technological marvels, fostering exhilarating experiences and intense competition. At the heart of any game aficionado's experience lies their gaming setup—a critical battleground where the tiniest fractions of seconds determine the victors. Crafting the perfect gaming setup is an art in itself. This article will guide you through identifying the essential components and features for your ultimate gaming rig, including Apple's AirPods and the Logitech G502 Lightspeed Wireless Gaming Mouse.
Identifying Your Gaming Preferences
Before embarking on the journey of creating your optimal gaming setup, a clear understanding of your gaming preferences is crucial. This includes identifying the type of games you enjoy, your preferred gaming platform (PC, console, or handheld), and the amount of time you dedicate to gaming. By aligning your gaming setup with your gaming preferences, you will ensure an immersive, satisfying experience. Preferences could even include colour, like the pink razer keyboard or the logitech pop keyboard!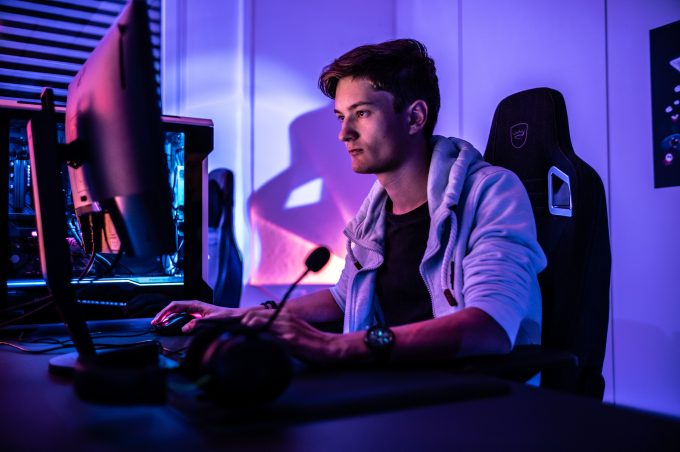 High-Performance Gaming PC
A gaming PC is the nucleus of any gaming setup, especially for those seeking to delve into high-resolution, competitive, or VR gaming. A top-tier gaming PC should be equipped with a powerful processor, ample RAM, and a state-of-the-art graphics card to deliver smooth performance.
Storage is another pivotal aspect to consider. SSDs (Solid State Drives) offer faster loading times than traditional HDDs (Hard Disk Drives). For those wanting to go the extra mile, investing in an NVMe M.2 SSD can further enhance the gaming experience with exceptionally fast load times.
If you are looking for a custom gaming rig, then somewhere like Cyber Power could be a great choice!
The Perfect Monitor
Your monitor is your window into the digital realms you explore. For fast-paced gaming genres like FPS or racing games, a high refresh rate (144Hz or above) can provide a significant edge. Meanwhile, for more visually-driven, immersive games, a 4K monitor might be the best option. Keep an eye out for monitors that support FreeSync or G-Sync, technologies designed to prevent screen tearing and stuttering.
The Logitech G502 Lightspeed Wireless Gaming Mouse
When it comes to gaming peripherals, a good mouse can be the difference between a triumphant victory and a crushing defeat. The Logitech G502 Lightspeed Wireless Gaming Mouse is a perfect blend of speed, precision, and customization.
Its wireless design eliminates cable drag, and its low-latency LIGHTSPEED wireless technology ensures a lag-free gaming experience. The HERO 25K sensor provides incredible accuracy, tracking movement down to the finest detail. Moreover, with 11 customizable buttons and an adjustable weight system, it offers great flexibility, allowing you to tune it according to your comfort and gameplay style.
Choosing Apple AirPods as Your Gaming Headphones
Surprisingly, Apple AirPods are not a common sight in the gaming landscape, primarily because they are not marketed as gaming headphones. But, their seamless connectivity, high-quality sound, and noise cancellation capabilities can indeed enhance the gaming experience.
AirPods Pro, with their Active Noise Cancellation and Transparency mode, can help maintain focus during intensive gaming sessions. Spatial Audio, a feature in newer models, can deliver immersive, directional audio, enhancing the overall gaming experience. Keep in mind, for best latency and compatibility, using them with Apple devices is recommended.
Keyboard and Other Peripherals
A solid, responsive keyboard is a must for any gaming setup. Mechanical keyboards, known for their tactile feedback and durability, are the go-to choice for most gamers. Depending on your style, you might prefer a full-sized, tenkeyless, or even a compact 60% keyboard.
Gamepads, flight sticks, racing wheels, or VR controllers can further enhance the gaming experience, depending on the types of games you play.
Comfortable Gaming Chair and Desk
A comfortable gaming chair and a sturdy, spacious desk complete your gaming setup. Ergonomics is key to maintaining health and comfort during prolonged gaming sessions. Choose a chair that provides good back support and a desk with enough space for all your gear. As for the gold standard in gaming chairs, you can't really beat SecretLab.
Final Thoughts
Creating your perfect gaming setup is a personalized journey, guided by your preferences and budget. Whether you're using the agile Logitech G502 Lightspeed Wireless Gaming Mouse or the immersive Apple AirPods, your choices should reflect what makes you feel most comfortable and perform at your best. Remember, while technology can provide a competitive edge, your skills and enjoyment are the true heart of gaming.
Keep up to date with gaming news on here or over on BBC gaming!