GM Summoners! — Ssorn here, your resident League of Legends Commentator and Expert Reviewer – bringing you all the latest LOL news here on TeamOverpowered!
Do you itch for more Arena Mode action in League of Legends? Good news – it's making a comeback, and it will be better than ever! Here's the scoop on when you can dive back in and what's new and exciting.
Mark Your Calendars! The buzz is real! After its stellar debut during the Soul Fighters event, Arena Mode has become a hit. And guess what? You won't have to wait long for its return. Riot's rolling out the red carpet for Arena Mode with Patch 13.23, which means it'll be live on November 21, 2023. So, get ready to team up and throw down!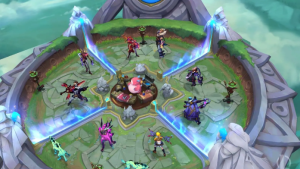 What's New in the Arena?
Riot isn't just bringing back Arena Mode; they're pumping it up with cool upgrades.
Bigger Squads, More Fun Feel like bringing more friends to the fight? Now you can queue up in groups of 2, 3, or even 4. Fancy a private showdown? Create a lobby for 8 and battle it out. Don't worry about rankings – you'll still earn those precious rating points.
Fresh Augments Ever felt stuck needing that one augment to perfect your character? Riot's tossing in 60 new ones to mix things up and add more strategy. Plus, with a cap of two copies per augment, everyone's got a fair shot at being unique.
Champion Select Shake-Up Things are getting a twist in Champion Select too. Now, the first player from each team will blind pick without repeats, adding a layer of surprise to your strategy.
Revive Your Mates Nobody likes to see a teammate down. Now, you'll get a chance to revive them once per round. Just hold the fort in the revive circle and your buddy's back in action!
Hextech Gates for the Great Escape Are you quick but squishy? Hextech Gates are here to give you a teleporting edge, making it tougher for the enemy to pin you down.
Center Ring Hot Potato Remember that ring of fire? Instead of a static center, it'll now move to different spots, keeping all you turret champs on your toes.
Balancing Acts Riot's also hinting at balance changes to keep things fair and fun – stay tuned for those details.
Star Cameos Look out for Thresh and Sylas, sporting their Winterblessed looks and ready to spice things up with unique abilities and helpful assists.
The Question We All Want To Know? Is Arena Going Permanent?
Will Arena Mode stick around for good? Riot's crunching numbers from the Soul Fighters event to decide. The upcoming run could really tip the scales, so jump in and show 'em how much we love it!
That's the lowdown, folks. Whether you're a seasoned Arena fighter or new to the fray, these updates are sure to add even more excitement to the League. Can't wait to see you on the battlefield on November 21st – it's going to be epic!
Stay tuned, and happy gaming!
Ssorn out.