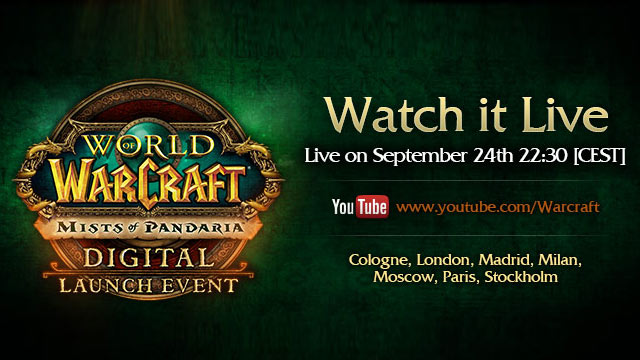 Look out guys Mists of Pandaria is nearly upon us!
Launch events will be springing up all over the world on the evening of September 24th and some of us will be lucky enough to make it to one and join in the fun! If like me though you are one of the unfortunate souls who actually has to work for a living (how dare work come in between me and my favourite MMO) then Blizzard have been kind enough to put on a streamed launch event just for us!
Starting at 22:30 Paris time on September 24th Blizzard will be streaming an exciting live launch event available to watch online for free where you can emerse yourself in the excitement of the new expansion with streams from the events in Paris, Colonge, London, Moscow, Madrid, Milan and Stockholm.
The type of entertainment on offer in this spectacular event will be exciting insights into Mists of Pandaria by the Blizzard team, live music and the usual hordes of excited World of Warcraft fans. I for one cant wait as it will help build up my excitement for the new expansion, not that I really need it as I can not wait to get my greedy paws on a gorgeous little Panda. Anyway, be sure to tune in at 22:30 Paris time through this link http://eu.blizzard.com/en-gb/company/events/mists-of-pandaria-launch.html#stream:europe to join in with your piers to celebrate the comming of a new era in Azeroth!
Check out the awesome promotional video for the event below!